Coronavirus in Galapagos Ecuador and Peru
If you are reading this, likely you have read the news of coronavirus (covid-19), a rapidly spreading virus hittest hardest in Wuhan City, Hubei Province. Globally, 129,583 cases of Coronavirus have been reported, leading to 4,749 deaths.  Internationally, 75 countries have over ten cases including the United States, Canada, Australia, Germany, France, Italy, and Spain. Within this blog, we discuss the risks of traveling to South and Central America, and if Coronavirus is present in Galapagos Ecuador and Peru.
Transmission of Coronavirus
The spread to humans of the Coronavirus is believed to have begun from within live animal and seafood markets. Animals carrying similar Coronavirus strains include camels, cats, and bats. Coronavirus transmission is now confirmed as human to human.
Symptoms of Coronavirus
If you experience any of these symptoms, it is important not to panic. These symptoms are common in many illnesses, from the flu to the common cold. If symptoms worsen, visit a doctor.
Fever
Cough
Shortness of breath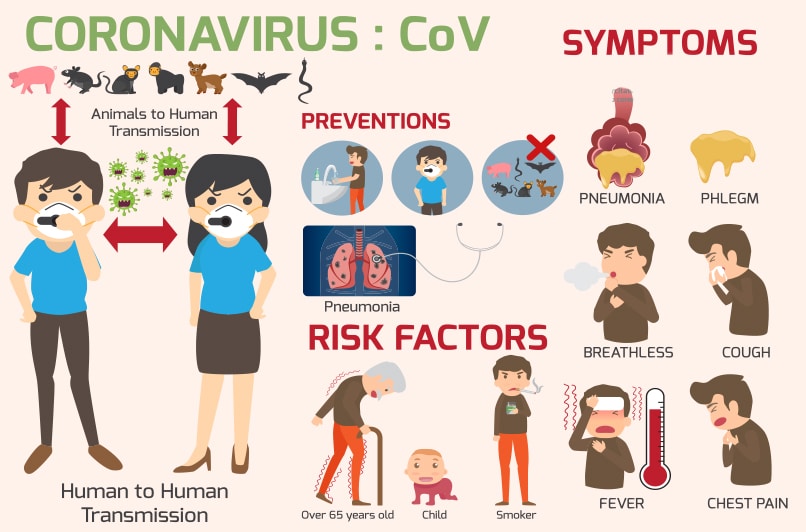 Avoidance – Coronavirus in Galapagos, Ecuador, and Peru.
Clean your hands often
Scrub your hands often with soap and water for a minimum of 20 seconds. Alternatively, wash your hands using an alcohol-based hand sanitizer containing 60 to 95% alcohol. lastly, cover all parts of your hands and rub them together until they feel dry.
Tips for Airplanes
Studies say that germs can stay up to seven days on a plane! To evade getting sick, avoid touching frequently touched surfaces. Additionally, use sanitizing wipes on areas you will be in for lengthy periods of time. This includes seatbelts, tray tables, armrests, entertaining touch screens, and seat pockets.
Moreover, make sure you stay hydrated while traveling, eat nutritious foods, and get at least eight hours of sleep the night before. As a result, your system is ready to fight off any bacteria or virus the minute you come in contact with harmful germs.
Coronavirus in Galapagos, Ecuador, and Peru
Update March 06, 2020: Since writing this article, Ecuador, Brazil, Mexico, and the Dominican Republic each have confirmed the case of Coronavirus. The total number of confirmed cases in Ecuador remain very low. The patients and all those in contact are currently quarantined in the hospital. Ecuador is taking additional measures to ensure the country remains virus-free. Guests originating from the following 4 countries are screened in the airport upon arrival:
China
Italy
Iran
South Korea
Additionally, the Galapagos authorities are currently streamlining a new regulation to restrict travel to the islands of passengers that have been within critical outbreak areas within the last thirty days.
Earlier this week, the Galapagos Government Council issued a decree that caused many to get concerned about the possibility of entering the Galapagos. This decree mentioned that any person registering visits in the past 30 days to any of the four main affected countries (China, Italy, South Korea, and Iran), would not be allowed into the islands. After thinking about the consequences of this decision and receiving requests from the different local organizations supporting tourism, the Council has released a revised version today (resolution CGREG-ST-2020-0400-R), which goes more in line with the controls that exist in many other countries to prevent contagion related to the outbreak of COVID-19.
Please, consider that the following measures apply to all people traveling to mainland Ecuador and/or to the Galapagos Islands:
Airport controls on arrival to question and check passengers for potential symptoms.
In case the authorities consider a person poses any risk to the safety of others around, they will be put into quarantine while tests are run to discard the presence of the COVID-19 virus.
People from any country arriving in Ecuador or the Galapagos will not be prohibited entrance without showing any symptoms of COVID-19.
Part of the new regulation also restricts passengers with respiratory symptoms that meet the definition of the Covid-19 case (coronavirus)
Update March 11, 2020: Covid-19 figures remain low in Ecuador, two clusters have been identified and isolated. Ecuador & Galapagos travel operations remain fully functional.
Update March 21, 2020: Ecuador has closed its airports for international arrivals, there is currently a mobility restriction enforced throughout the whole country with a curfew, and Galapagos is completely inaccessible for the time being. Ecuador announced the restriction of international arrivals will only be enforced for 21 days, which means this restriction should be lifted by April the 5th. Given the current climate of things, it is likely Ecuador's Quarantine will be extended.
Please contact your trip advisor if your travel is affected by the pandemic. We are addressing our soon to travel customers, assisting in the postponement of their trip(s).
We understand these are unprecedented times, our heart goes out to all of those affected by the pandemic. Here is a video to keep your spirits up.
---