Cormorant Galapagos Cruise in 2019 – What to Expect
There are many itineraries provided by the Cormorant Catamaran in 2019. This a breakdown of all the itineraries and details to help you better choose which one is right for you.
Saying that one Galapagos cruise itinerary is the hands-down best option for everyone is making a pretty bold statement. In realty, different people prefer different itineraries because they want to see different things. So when exploring the Cormorant Galapagos Cruise in 2019, take some time to peruse the different itineraries as they provide entirely different experiences!
Since that answer is so exceptionally unhelpful, this article will focus on guidelines and tips that can help you figure which itinerary is the perfect fit for you. I've collaborated with the veteran trip advisors at GreenGo to come up with some important factors that influence guest decision making. We've also come up with a whole bunch of extra tips to make sure that your Galapagos cruise is the best it can be.
Common Factors in Choosing an Itinerary
Here are the most common factors that come in to play when people are choosing a Cormorant Galapagos Cruise itinerary in 2019:
Launch date
Cruise duration
Islands visited
Full navigable vs connected itinerary
Availability
Now let's get in to how these factors apply to a Cormorant cruise in the Galapagos:
Launch Date –
2019 Cormorant Catamaran
It's actually not entirely up to the cruise line to decide when they're going to leave port. The Galapagos is an extremely regulated and protected area. This means that each individual cruise itinerary needs to be reviewed and authorized by the Galapagos National Park.
All itineraries will launch on a specific day of the week. For example, a particular cruise route might be offered dozens of times throughout the year, but it only starts on a Saturday.
If your schedule isn't very flexible, this might play a part in deciding which itinerary to go with.
Durations – 2019 Cormorant Catamaran
Some cruises simplify their schedule by only offering two different back-to-back, 8-day itineraries. Others will cater to a wider audience by offering a few different options. This is true of the Cormorant.
In general, though, the shortest Galapagos cruises are 4 days and 3 nights long. The longest cruises can go up to 15 days long by combining itineraries for an extended trip.
Islands Visited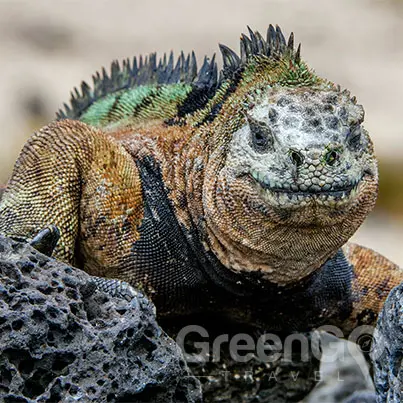 You'll find hundreds of these guys sunbathing
In my opinion, this is probably the most important factor in deciding on a trip. The Galapagos is an archipelago of 21 different islands, all of them totally unique. In fact, you'll run into different species of plants and animals depending on which islands you visit.
For example, each island is home to a different kind of marine iguana. They vary in size, shape, and color. Some are black, some are pink. All of them are really, really ugly.
Regardless of your other criteria, I'd really recommend taking a close look at which islands are covered by the itinerary you're interested in, and cross-reference this with what's happening in those islands during that type of year. The Galapagos runs on a schedule, so your experience will be different depending on when you come and where you visit.
Full navigable vs connected itinerary
Full navigable is a fancy term that just means that there are no stops in between for a change of passengers. These are generally the longer 8-day cruises, and you can get much further away from the islands with higher traffic. This can be a really great experience since you'll get to visit the more remote parts of the archipelago.
Connected itineraries are where you can do either a full 8-day cruise with a stop at a port in the middle, or you can do a shorter trip of 4 days for only part of the itinerary. This gives you more flexibility in deciding how long of a cruise to take, but you'll also be staying much closer to the main ports. The ship will have to return to one of these ports, and you'll have to wait for the exchange of passengers doing the half cruises before continuing on.
That said, the Galapagos really isn't a crowded area, so either way, you'll get to really enjoy nature at its fullest on the Cormorant Galapagos Cruise in 2019. It's unforgettable either way.
Availability – Cormorant Galapagos Cruise in 2019
This might not come immediately to mind when you're thinking about a cruise, but the Galapagos is really popular! Often, the cruises will be fully booked over a year in advance during high season. So if you're thinking of a summer cruise, you'll really need to plan ahead, especially if there's one itinerary in particular that you have in mind.
2019 Cormorant Catamaran Itineraries
Now that you have an overview of what's worth considering when you plan your trip, let's take a closer look at what's offered aboard the Cormorant.
Itinerary A
Famous blue footed boobies of the Galapagos

This is a connected itinerary, which means that it can be split up. Here are your options:
Full-Length itinerary A
Combination of itinerary A5 and A4. On day 5, the ship comes in to port to do the passenger exchange.
Itinerary A5 is the first 5 days of the cruise.
This program includes the beautiful island of Genovesa. This is a remote island and one of the longest sailing distances you'll have while cruising the islands.
Genovesa is considered a bird paradise and is one of the only places in the Galapagos where you are able to find all three species of boobies. Let's be honest. In the Galapagos, everyone wants to see boobies.
An interesting stop is the island of Santa Fe which is among the oldest rock formations in the islands.
The main attraction in this island is a forest of giant opuntias (prickly pears) and desolated trails.
There's also an in-depth visit to the eastern island of San Cristobal. This includes interesting points like Kicker Rock which is a famous rock formation that's especially great for snorkeling. There's also Pitt Point, the farthest visit point on the other edge of the island which is where you can find the rare red-footed booby.
Itinerary A4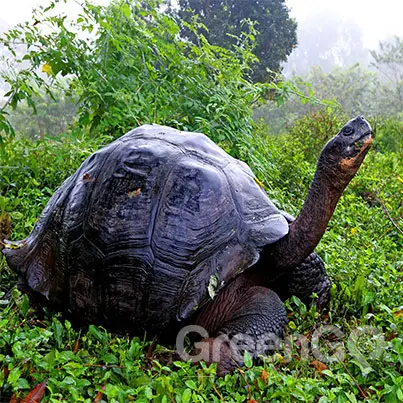 Galapagos Tortoise showing off its large neck
Last 4 days of the cruise. It's also known as the Southern program. In this itinerary, you can visit some great islands like Floreana and Espanola. These are among the oldest islands in the Galapagos, which means that they've had the most time for wildlife to develop. There's a reason that they're so popular.
Those islands have great snorkeling and diving locations, too. For example, the islets on the eastern side of Floreana are some of the best places to see sea turtles, sea lions, and a dense population of sharks. Here is a great source of information on how to snorkel for those that are beginners or want to improve!
There's also a visit to Gardner Bay, which is loaded with sea lions on its sandy beaches. This is a great place to see the great waved albatross.
The program ends with a short visit to the highlands of Santa Cruz. This is one of the main attractions in this area; there are usually giant tortoises roaming around. There's also a really thick forest that's packed with all kinds of bird species and other wildlife.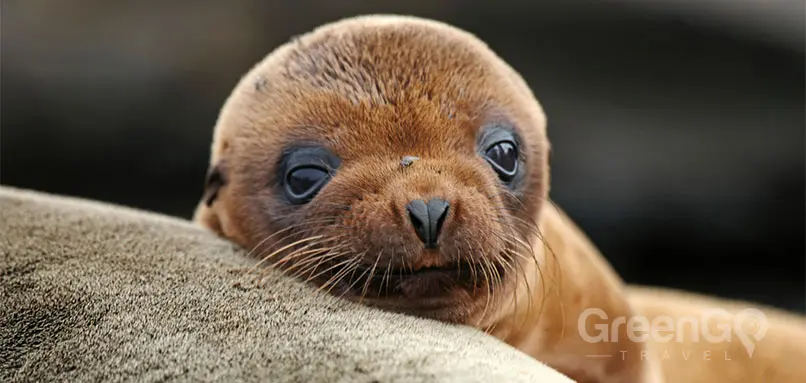 The baby sea lion might be the winner of cutest animal in the Galapagos
Itinerary B
The Itinerary B of the Cormorant Galapagos Cruise in 2019 is a fully navigable program. To elaborate, there are no stops for passenger exchanges. That more time for exploring and enjoying the water!
This cruise is also known as the West program, and it'll take you to the remote islands of Isabella and Fernandina. These are considered to be among the youngest of the islands in the Galapagos. There are a lot of species here that are totally endemic to these particular islands; you won't find them anywhere else on earth.
You'll also get to visit the island of Santiago, which is an interesting experience. It has a long, volcanic shoreline that has tons of wildlife densely packed here. Puerto Egas is also a really popular place for snorkeling.
North Seymour is another cool place to see; it's got one of the largest populations of magnificent frigatebirds. There's a trail about a mile long on this island that will let you explore the rocky coast.
Main Island stops
Some of the stops on the main island include Charles Darwin Station (a research station packed with specimens of plant life), and Dragon Hill, which is packed with land iguanas.
The above should be a great guideline for those looking to know the in and outs of every individual program aboard Cormorant Galapagos Cruise in 2019, and then determine what itinerary suits their interests and schedules best.
Magnificent frigate birds attracting mates with their beautiful red throats
Itinerary differences – 2019 Cormorant Galapagos Cruise
Ok, so that was a fair bit of information to cover. To make it absolutely clear what you're getting with each itinerary here is s a complete and very concise rundown:
Itinerary A5
The first part of itinerary A, here's where you go and what you can do there:
Bachas Beach, Santa Cruz: Sea turtles and flamingos.
El Barranco, Genovesa: Volcanic rock trail with red-footed boobies and Galapagos petrels.
Darwin Bay, Genovesa: Nesting grounds for birds, white sand beach, and sea lions.
South Plazas Islet: Largest sea lion colony, prickly pear cacti, and hybrid land/marine iguanas.
Santa Fe Island: Giant prickly pear forest with a really scenic cliff.
Pitt Point, San Cristobal: The only place in the Galapagos that has all 3 species of boobies and 2 species of frigatebirds nesting in one area.
Cerro Brujo, San Cristobal: Amazing snorkeling and a beautiful beach.
Cerro Colorado, San Cristobal: Captive breeding of giant tortoises to be later released into the wild.
Itinerary A4
The second part of Itinerary A, here's where you'll go:
Kicker Rock, San Cristobal Island: Really cool rock formations, paired with shorebirds and a ton of marine life.
Suarez Point, Espanola Island: Marine iguanas that turn red and turquoise in breeding season, waved albatross, and a really great 2-hour hike.
Gardner Bay, Espanola Island: Sea lions and a nice sandy beach. Also lots of marine life.
Post Office Bay, Floreana Island: Historical area for whalers, underground lava tunnel.
Baroness Lookout, Floreana Island: Great view overlooking mangroves in an area with marine life like golden eagle rays, sea turtles, and sea lions.
Cormorant Point, Floreana Island: Flamingos, stingrays, and sally lightfoot crab.
Floreana Islets, Floreana Island: Loads of sharks and coral fish.
Charles Darwin Station, Santa Cruz: Research station and captive breeding of giant tortoises
Itinerary B
An 8-day cruise, here's the basic outline:
Charles Darwin Station, Santa Cruz: Research station and captive breeding of giant tortoises
Sierra Negra Volcano, Isabela Island: An active volcano, its last eruption was in July 2018! If the volcano is too active, you might end up doing a detour for the sake of safety.
Wetlands, Isabela Island: Lava tunnels, mangroves and lots of endemic bird species.
Moreno Point, Isabela Island: Coastal lagoons, shorebirds and flamingos.
Elizabeth Bay, Isabela Island: Penguins on the equator! How cool is that??
Espinoza Point, Fernandina Island: More penguins, and the largest colony of marine iguanas.
Vicente Roca Point, Isabela Island: Flightless cormorants, penguins, and great snorkeling.
Puerto Egas, Santiago Island: Black sand beach, salt water lagoons, and Galapagos hawks.
Espumilla Beach, Santiago Island: Palo Santo forest (a relative of frankincense and myrrh), marine turtles and great snorkeling.
Buccaneer Cove, Santiago Island: Really phenomenal snorkeling.
Bartolome Island: Amazing panoramic view of colorful sandy beaches and more great snorkeling.
Sullivan Bay, Santiago Island: Really interesting solidified lava flows where you can see indications of the vegetation that was once there.
Chinese Hat Islet: American oystercatchers (a type of bird, not a bunch of Americans catching oysters) and sally lightfoot crabs, sea lions and good snorkeling.
Cerro Dragon, Santa Cruz Island: An area packed with iguanas. You can also find flamingos, lagoons, and a lot of varieties of shorebirds.
North Seymour Island: Frigatebirds, marine fossils, and sea lions.
Final notes
The nice thing about a Galapagos cruise is that there's no "wrong" decision. However, by doing a bit of research on what exactly is offered, you can make sure that the cruise you pick is the perfect one for you.
If you want to get to know the 2019 Cormorant Galapagos Cruise itself a little better, it's features, configuration, and maps of the itineraries, then here's all the information you're looking for.
---