Cormorant Galapagos Cruise Airfare – Flight Guide
Flying doesn't have to be stressful. Read to learn every tip in the book about getting to your Cormorant Galapagos vacation in a jiffy.
So you've got your heart set on the amazing Cormorant to cruise the Galapagos for an absolutely unforgettable experience. When you're watching the whales in front of a volcanic backdrop from the ship's Jacuzzi, you'll hardly be able to imagine anything more luxurious.
Now all you have to do is get there. In this post, I'll walk you through all the pro tips that will help you to make sure that your dream vacation happens without a hitch.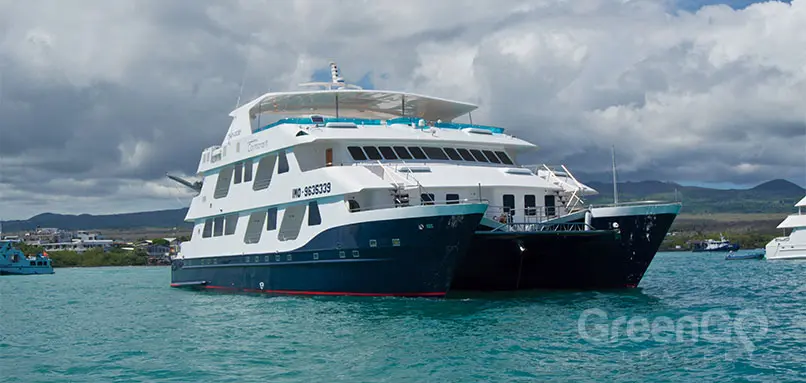 Cormorant Cruise front view. Double hull for added stability
Airlines and Flights
Getting to Ecuador is pretty straightforward from the US. Common direct flights come in from New York City, Fort Lauderdale, Miami, Atlanta, and Houston. That said, connecting flights are pretty straightforward, they'll just make your trip a bit longer. Lots of airlines offer these flights – JetBlue, Delta, Spirit, United, Avianca, LATAM, etc.
High season for flights to Ecuador is generally July and August, whereas the cheapest month for flights to Ecuador is usually May.
Let's get right to it. The only way to get to the Galapagos is by plane from mainland Ecuador. There are three commercial airlines that provide this service.
The two foreign-owned airlines are Avianca and Lan (also known as Latam). The local airline that provides flights is Tame.
Pro tip: the Spanish pronounce the "e" in Tame. That makes it sound like they're saying "Tahm-eh". It's a small thing, but it can throw you off at the airport if you're not expecting it.
You can only get direct flights to the Galapagos from Ecuador's two largest cities: Quito and Guayaquil. That's not to say that you can't fly from other areas, like Cuenca. You'll just need a connecting flight.
Flights to the Galapagos are also domestic, not international. This means that there are some differences in requirements and allowances. More on that later.
When to Fly
Sit back and relax on your Flight
There's no such thing (at least for now) as an afternoon or overnight flight to the Galapagos. All flights happen in the morning.
So here's where you need to think ahead: Airline delays happen everywhere, and Ecuador is no exception. If you're doing a self-guided land tour, it's no big deal. You can just stay a day later to catch up.
When you're going on a Cormorant Galapagos cruise, though, you can't miss the launch. The boat will, quite literally, leave the port.
This is why the guys at GreenGo Travel strongly recommend that you come to Ecuador 2 days before your flight to the Galapagos. Aside from reducing the risk of a catastrophic start to your vacation, there are a few advantages to going this route.
For one, you'll get to acclimatize to the weather and/or altitude of some of Ecuador's most interesting places. Flying across continents is exhausting, and this will help you to stay fresh and perky right from the moment that you set foot on the islands.
Take a day or two before your Adventure
Ecuador contains many beautiful cities such as Quito
Another perk is that you can spend some time exploring Ecuador! There are some amazing things to do around both of these cities that will only make your trip more fun.
If you're looking for great travel ideas for getting the most out of Quito, take a look at this article: Quito in 3 Days: The Best Things to Do! Quito is my favorite city to pass through simply because there's so much going on. Definitely try the Teleférico when you're visiting!
If you're spending time in Guayaquil, you've got loads of beaches and coastal areas at your fingertips. Spend some time at Playas and pick up a fresh shrimp ceviche on the beach, or check out some of the awesome boardwalks along the ocean. Here are some of the day tours that GreenGo offers in these areas.
Where You'll Land
The Galapagos has two commercial airports, both of which are commonly used. One is on Baltra Island, and the other is on San Cristobal.
Baltra is a small island just to the North of Santa Cruz Island, which is smack dab in the middle of the Galapagos. It's a repurposed US Air Force Base that's been upgraded to accommodate commercial flights.
This is usually the preferred starting area of most Galapagos cruises since it's so central. Some cruises will launch directly from Baltra Island.
Other cruises will launch from Puerto Ayora, which is on Santa Cruz Island. To get to Santa Cruz from the airport, there's a really enjoyable 40-minute ferry ride between the islands. The route is very scenic and it's a great start to your Galapagos adventure.
From there, you can take a bus or a taxi to Puerto Ayora. This will take roughly two hours. Puerto Ayora is a really cool little town where you can find hotels, good restaurants, and great little coffee shops. It's a nice place to spend a day, or at least a few hours.
If you want the full scoop on how to get from Baltra to Puerto Ayora using public transport, here's a full article that explains it.
The San Cristobal airport is only about five minutes away from the main town on the island, but it's much less common to use as a start and endpoint for Galapagos cruises.
Tips for Flights to the Galapagos
Even though Galapagos flights are considered domestic, they still have a few rules that make them different from what you'd normally expect.
Check-in Times
Normally domestic flights require that you show up at least one hour early for check-in. Not so with Galapagos flights. The minimum check-in time is two hours early. Don't be late!
Baggage
This is another one where the requirements are slightly different. The maximum weight of luggage for Galapagos flights is 20 kg or 44 lbs. This is different from the typical 22.5 kg (50 lb) limit of most standard flights. It's just enough to be really annoying when you don't know about this in advance.
In other words, don't exceed that 44 lb limit, even on your flights into Ecuador. If you do, you'll have a real headache getting to the Galapagos. Packing light when traveling is always a good idea.
Coromant Cruise Logistics
Cormorants offer a total of 4 different sets of programs, 2 full-length itineraries for 8 days and 7 nights, or two short programs; 5 days and 4 nights, or 4 days and 3 nights. The official airline Cormorant uses is Avianca.

Itinerary A (8 Days – & 7 Nights) / Starts & Ends in Baltra
Outbound Flight: AV1638
Departs Quito: 08h15 / arrives Guayaquil: 09h10
Departs Guayaquil: 09h50 / arrives Baltra: 10h50

Inbound Flight: AV1635
Departs Baltra: 13h00 / arrives Guayaquil: 16h20
Departs Guayaquil: 17h05 / arrives Quito: 18h00

Program A is a combined itinerary. It can be taken in its entirety for 8 days, 7 nights, or it can be split up in two sections first or second half, which are categorized as A4 and A5.
Itinerary A4 (4 Days – & 3 Nights) / Starts in San Cristobal, Ends In Baltra
Outbound Flight: AV1630
Departs Quito: 10h10 / arrives Guayaquil: 11h00
Departs Guayaquil: 11h45/ arrives Baltra: 12h40

Inbound Flight: AV1635
Departs Baltra: 13h00 / arrives Guayaquil: 16h20
Departs Guayaquil: 17h05 / arrives Quito: 18h00

Program A is a fantastic itinerary covering one major island per day, providing you with a very balanced and complete itinerary, considering it's a short 4 day program.
Itinerary A5 (5 Days – & 4 Nights) / Starts in Baltra, Ends in San Cristobal
Outbound Flight: AV1638
Departs Quito: 08h15 / arrives Guayaquil: 09h10
Departs Guayaquil: 09h50 / arrives Baltra: 10h50

Inbound Flight: AV1631
Departs San Cristobal: 13h20 / arrives Guayaquil: 16h10
Departs Guayaquil: 16h50 / arrives Quito: 17h45

Program A5 visits the center part of the archipelago,  including the wonderful visit point of Punta Pitt, which is one out of two places in the whole archipelago where you can find the red-footed boobies.
Itinerary B (8 Days – & 7 Nights) / Starts & Ends in Baltra
Outbound Flight: AV1638
Departs Quito: 08h15 / arrives Guayaquil: 09h10
Departs Guayaquil: 09h50 / arrives Baltra: 10h50

Inbound Flight: AV1635
Departs Baltra: 13h00 / arrives Guayaquil: 16h20
Departs Guayaquil: 17h05 / arrives Quito: 18h00

Program B  runs for 8 days with no stops in between, making the most of your time aboard the cruise and covers the most remote part of the islands to the west, including the Pristine island of Punta Espinosa,  and even farthest island of Genovesa – considered a bird paradise – which is a totally mind-blowing cliff.
Ultimately, the guys at GreenGo will be more than happy to help you out with any questions you have about getting aboard your cruise; that's what they're here for.
If you're getting ready for your trip, make sure you read through our blog to help you prepare! We've got all kinds of goodies, like what clothes to pack, tips on cell coverage, and a preview of the awesome food served on these cruises!
---