Top Five hiking trails in the Ecuador Mountains
Quick recap of the 5 best hiking destinations in Ecuador
A good hike can be one of the most satisfying ways to really get close to nature. The feeling of accomplishment along with a few amazing views make for a totally memorable vacation. Ecuador does not disappoint when it comes to awesome hikes! Especially in the mountains, there are absolutely breathtaking routes for all levels of hikers. Without further ado, here is my top five hiking trails in Ecuador:
Top five hiking trails of Ecuador
1. Quilotoa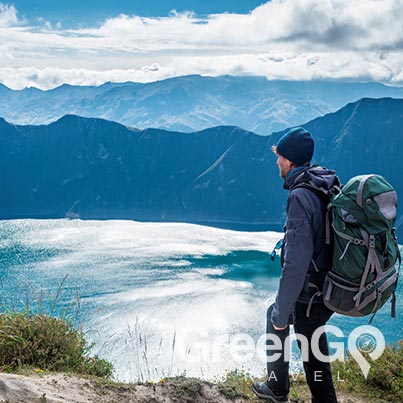 hiker viewing the quilotoa crater
This is just plain cool.
Quilotoa
is a caldera that's filled with a bright, turqouise water.
Don't worry, I had to look up what a "caldera" is too. It's actually pretty interesting.
A caldera is a thing that's formed by volcanoes. A volcano typically has a giant magma chamber underneath it. Sometimes they'll erupt violently and completely empty out this chamber in a really short time frame. When this happens, the center of the volcano can collapse since it's no longer structurally supported by that magma.
That's what happened with Quilotoa. Massive eruptions completely emptied the magma chamber about 600 years ago and spread ash throughout the Andes. Not long after that, the magma chamber collapsed, the center of the volcano formed a massive 2-mile wide crater, and eventually it filled with an 800-foot-deep lake.
Since there are so many minerals that were forced up by the volcano, they've turned the water a rich turquoise color. To be honest, it kind of reminds me of what you might see in Lake Louise in the Rocky Mountains in Canada, except way bigger. Either, way, both are bucket list items.
If you want a memorable hike, this is number one of the top five hiking trails in Ecuador that I'd recommend above all to others.
There are two main things that you can do here: a simpler, shorter hike that just takes you from the arrival point down to the water. It's about a one hour descent, and getting back up usually takes around 2-3 hours. It's pretty steep at some points, so you'll definitely be out of breath even if you're in decent shape.
If you're looking for something more, you can do the Quilotoa Loop. It's an amazing 6-mile hiking/camping trip that can take three to five days to complete, and it's probably one of the most underrated things you can do in Ecuador. The hike itself is medium intensity. They'll definitely be a few steeper areas where you'll really be breaking a sweat. That said, it's very doable for most healthy people in good hiking shape. Because it's a longer trail, it is recommended to bring with you a water filter to stay hydrated. That way you won't need to carry a lot of water while hiking. Working your way around the entire caldera will be a totally unforgettable experience.
The main challenge will be the altitude. The Quilotoa loop is on average almost 13,000 feet above sea level, so you'll want to have at least a few days to acclimatize.
Personally, I'd recommend trying to get down there at around 7 or 8 am where it's consistently the clearest; you can get some amazing shots and really enjoy being able to see clear across this amazing lake.
Regardless of how long you stay here, one thing if for sure: you're gonna love it!
2. Cajas National Park – Top five hiking trails in Ecuador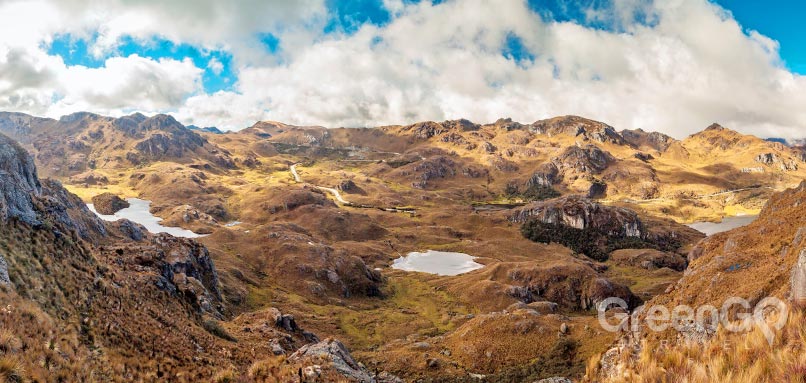 panoramic view of el cajas national park
About half an hour from Cuenca, the Cajas National Park is a great place for people of all hiking abilities. There are about 20 different routes that are marked, and the area is really beautiful.
There's somewhere around 230 lakes in the area, and you can see llamas, orchids, and hummingbirds as you explore the park. The shortest hike is about 45 minutes long and is very easy; it's a good way to simply enjoy a bit of nature. If you want more, there are all kinds of paths you can take – some taking about 4 days to complete if you can manage hiking 8 hours every day.
The scenery is really unique here, too – grasslands peppered with lakes, and the endless mountains in the distance will have you wondering if the earth really is round.
3. Yasuní National Park
hiking in the rainforest
If you want to experience the
Amazon
, this is the place for you! Although, full disclosure, it's a bit of a trip to get here. It typically involves a flight from Quito to Coca (although you can also take a bus) and then a boat ride in to your area of interest.
You'll get to see some amazing sights in this park. The wildlife is incredible, and every visit will be different. According to the Smithsonian, this is one of the most biodiverse places on earth. You can see toucans and parrots, peccaries and spider monkeys, tarantulas and anacondas, howler monkeys and harpy eagles.
There are lots of guided hiking areas in this park, and carefully monitored tourism helps to keep this area protected. The hike I'd recommend trying out is in an area called Mirador. It's a ways into the park, but it's worth the trip. The hike itself is only about 2 hours, but it will take you to the highest point in the park and you'll have an amazing view of the entire rainforest.
If you end up hiking through this park, make sure you dress appropriately – the heat and humidity are intense!
4. Cotopaxi National Park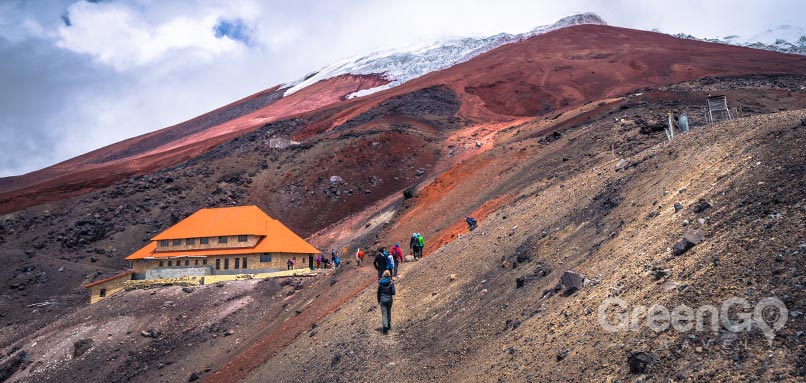 cotopaxi refuge & hikers
This is where you get to see wild horses roaming under massive volcanoes. The reason this reaches the 5 best hiking trails in Ecuador is due to the accessibility and breathtaking quality!
About an hour and a half south of Quito, the park is also home to Andean bears, puma, foxes and alpaca. What makes this an interesting area for hiking is that the ground is actually fairly flat, with the massive Cotopaxi volcano (second largest in Ecuador) towering over the landscape. This is an area where you can get truly stunning sunsets.
If you want something more that just a hike, Cotopaxi is the most popular volcano to climb in all of Ecuador! CNN Travel listed it as one of the world's top 10 most photogenic volcanoes in the world, and I'd have to agree.
5. Pululahua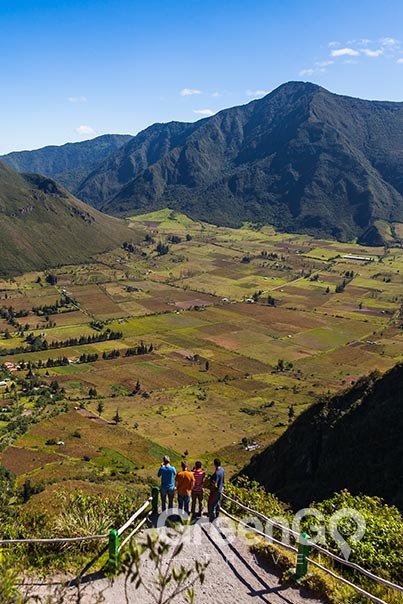 pululahua view point
Everyone knows about
La Mitad del Mundo
where you can see a bunch of tricks related to straddling the equator, but most people don't know that very close by is one of the most amazing, underrated places in Ecuador.
For the people that have heard about it, their experience is limited to a brief pit stop with a really breathtaking view, and then they're back on their way.
Don't do this; you'll have missed a really phenomenal opportunity.
Some of the trails in this area are thousands of years old, there since the Incan times and even earlier.
When you get there, you'll feel like you've gone back in time, or that you're on another planet.
There are a few trails there to hike that will take you anywhere from 2 to 5 hours.
Hiking is one of my favorite ways to explore Ecuador – the mountains here are amazing and seem to go on forever.
This is definitely one of the ways to get the most out of your visit.
Not quite sure which of the top five hiking trails in Ecuador hiking trails to take? No problem, our trip advisor's are here to help!
We have the fastest & most efficient service in the market! Our travel planing services are free, with no payment or commitment involved.

Speak with a trip advisor today
Your dream holiday is a click away!
---