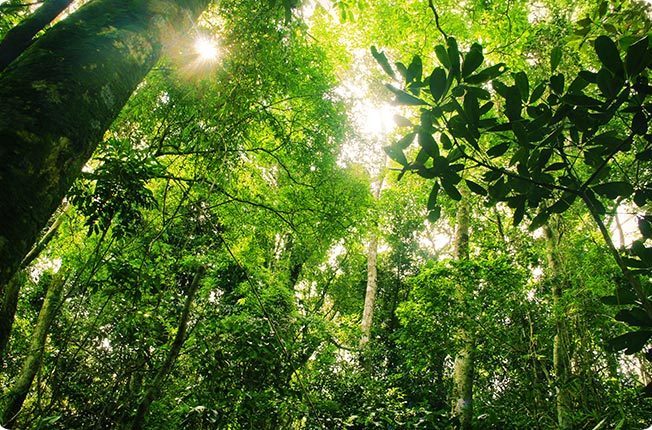 Amazon Basin

The rainforest comprises the largest amount of species in the world.
Among the most bio-diverse areas in the world.
Over 1100 of tree species for every quarter square kilometer.
Home to a vast amount of indigenous communities & cultures.
One of every 10 known species live in the amazon rainforest.
An infinity of insects, hundreds of bird types, mammals & reptiles.
Plays an important role in regulating global climate patterns.
Large networks of rivers, home to pink dolphins, caimans, piranhas & much more.
One of the best tourist infrastructure's has been developed in Ecuador's Amazon Rainforest region, providing quick access for those looking to visit this remarkable part of the country. With 45 minute flights, passengers can arrive to Coca, Lago Agrio or Macas, only to be boarding a canoe shortly after, entering primary rainforest in record time. Entering lodges in Ecuador Amazon Rainforest is an adventure in itself, depending on the region you will be visiting, the setting layout could vary from inundated forest in the Cuyabeno Reserve, thick lush vegetation in Tena or tall trees with a full ceiling canopy in Coca & the world known Yasuni National Park.

AMAZON RAINFOREST LODGES
Amazon Lodges are a great way of getting to experience the amazon first hand, their all inclusive packages will look after every detail from start to end, accommodation, certified bilingual guides, meals & transport will all be prearranged to provide you with a front row seat to this amazing ecosystem that doesn't cease to amaze its visitors, have a look at the different lodges located in several regions of the amazon, make your pick and let us take care of the rest.
ALL LODGES
AMAZON RAINFOREST CRUISES
Amazon Cruises are not as common as Lodges, but nonetheless they offer a great and different approach to the amazon rainforest, the most significant benefit would be a broader coverage of the amazon region as they continue to cruise through the amazon river. Tour lengths go from 4 to 8 days, similar to Galapagos cruises, you are ensured your activities will be varied and in different locations for every day of your tour. Tour lengths & routes might be limited in seasons of light rainfall as rivers water level decreases.
ALL CRUISES