About Ecuador Amazon

Rainforest
All You Need To know About The Amazon Rainforest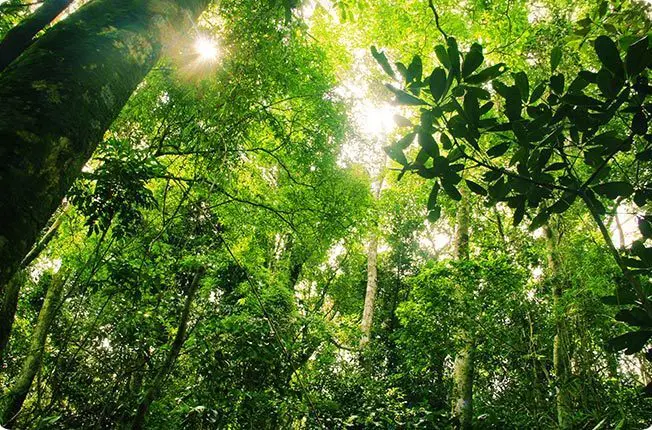 Amazon Basin

The rainforest comprises the largest amount of species in the world.
Among the most bio-diverse areas in the world.
Over 1100 of tree species for every quarter square kilometer.
Home to a vast amount of indigenous communities & cultures.
One of every 10 known species live in the amazon rainforest.
An infinity of insects, hundreds of bird types, mammals & reptiles.
Plays an important role in regulating global climate patterns.
Large networks of rivers, home to pink dolphins, caimans, piranhas & much more.
One of the best tourist infrastructure's has been developed in Ecuador's Amazon Rainforest region, providing quick access for those looking to visit this remarkable part of the country. With 45 minute flights, passengers can arrive to Coca, Lago Agrio or Macas, only to be boarding a canoe shortly after, entering primary rainforest in record time. Entering lodges in Ecuador Amazon Rainforest is an adventure in itself, depending on the region you will be visiting, the setting layout could vary from inundated forest in the Cuyabeno Reserve, thick lush vegetation in Tena or tall trees with a full ceiling canopy in Coca & the world known Yasuni National Park.

AMAZON RAINFOREST LODGES
Amazon Lodges are a great way of getting to experience the amazon first hand, their all inclusive packages will look after every detail from start to end, accommodation, certified bilingual guides, meals & transport will all be prearranged to provide you with a front row seat to this amazing ecosystem that doesn't cease to amaze its visitors, have a look at the different lodges located in several regions of the amazon, make your pick and let us take care of the rest.
ALL LODGES
AMAZON RAINFOREST CRUISES
Amazon Cruises are not as common as Lodges, but nonetheless they offer a great and different approach to the amazon rainforest, the most significant benefit would be a broader coverage of the amazon region as they continue to cruise through the amazon river. Tour lengths go from 4 to 8 days, similar to Galapagos cruises, you are ensured your activities will be varied and in different locations for every day of your tour. Tour lengths & routes might be limited in seasons of light rainfall as rivers water level decreases.
ALL CRUISES
Introduction To Amazon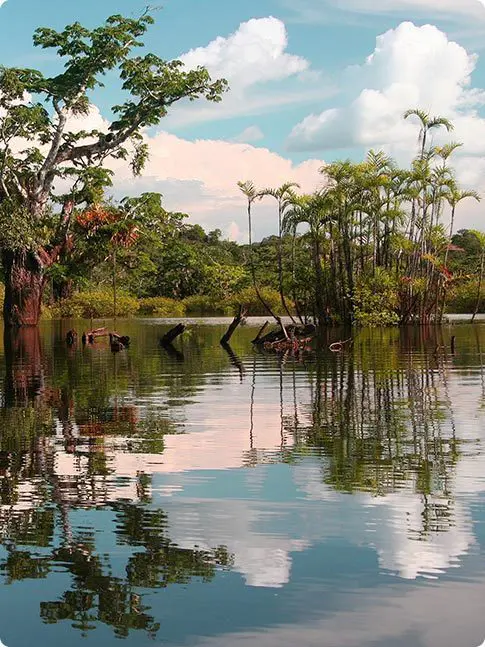 The Cuyabeno Reserve

The Amazon Rainforest
Like out of a postcard, the Amazon Rainforest displays surreal landscapes at every turn, an exceptional experience you have to be part of first hand. Unspoiled nature and the wilderness of the rainforest sets the perfect tone to disconnect yourself from your daily routine and submerge yourself into a natural paradise full of wildlife and adventure.
Experience Wildlife
You can feel wildlife in the atmosphere, a mixture of sounds fill the air, rain droplets making their way through leaves, distant sounds of birds chirping away, and the water flowing through different rivers & creeks, home to pink dolphins and other exotic creatures. Tucans, Sloths, Anacondas, Caimans & much more are all out there, spotting them can be challenging, their colors are easily camouflaged with the background at times, which can fool even the keenest of eyes.
Visit Local Communities
A few lodges in the Ecuadorian amazon are a prime example of true Eco-tourism, operated and owned or jointly owned by indigenous communities, these lodges welcome you to be part of their homes and territory during your stay.  You will experience firsthand guidance from locals of the area, learn their customs, eat their meals, but most importantly support their way of living with your visit, an option definitely worth considering that will enhance your overall amazon experience.
Amazon Discovery
Whether if you are staying at a lodge of traveling through the amazonian river in a cruise, discovering the amazon is one of the most rewarding parts of your tour. Specialized naturalist guides will take you through different parts of the jungle where you will discover ancient trees with different types of foliage's, a variety of plants with healing properties, observe trails of animals that have been in the area, swamps, rivers you can swim in, and a lot more.
Natural Reservations
Amazon Frog

Parks, Reserves & Provinces
Park & Reserves are certain parts of the rainforest that have shown great promise in diversity, wildlife & exhibit exceptional characteristics. This holds true to many parts of the rainforest found in the Ecuadorian Amazon. Parks & Reserves main purpose are to protect & safeguard their delimitation's in order to maintain these regions as pristine & untouched as possible. The Province of Tena is not a park nor a reserve, but it's a feature packed region that carries many benefits & well known for a great amazon excursion.
The Cuyabeno Reserve
The Cuyabeno is an outstanding reserve located in primary rainforest comprising unique ecological characteristics found nowhere else in the world, mainly attributed to its proximity with the Andes. With a network of permanent and semi-permanent rivers, inundated forests, creeks and swamps, the reserve holds numerous ecosystems providing the perfect environment for different types of large amazon mammals such as Tapirs, Capybaras, Pumas, Giant Otters, among others. With over 500 species of birds and over 300 species of fish, anacondas, caimans and the once endangered pink dolphins – the reserve is without a doubt a true amazon experience.
Yasuni National Park
The Yasuni National Park holds world records like no other place, its relatively small size carries an unimaginable diversity of species and flora in outstanding levels – holding the title of the most bio diverse spot in the world. Established in 1979, this exceptional natural hotspot located in the province of Orellana and Pastaza was declared as the Yasuni National Park in an effort to preserve the integrity and richness of the area. The park captured the world's attention, in 1989 it became listed in the UNSESCO as part the world's heritage sites. To put it in perspective some impressive records are: 1 hectare of Yasuni's park holds the same amount of trees & insects found in all of North America.
Tena (Capital of Napo)
Tena, the capital of Napo is a small little city well regarded for its rivers and secondary jungle, visitors will be able to arrange a number of daily activities directly in its main square. A few lodges found in the area are easily accessed with land transport & offer short tours with affordable rates & a great variety of activities including white water rafting & horseback riding, a combination that wouldn't be possible in primary rainforest,  without a doubt a fantastic approach to the amazon region. Tena is also well known for white water rafting, Tena & Pano rivers converge in the area, setting the perfect environment for some adrenaline packed rafting, these can easily be arranged as day tours from Quito.
Amazon Transportation
Canoe in Amazon

Amazon Rainforest Transportation
From getting there to transport used to mobilize you in the amazon surroundings, the means of transport in the amazon can be limited to land only, to a combination of various methods. Every lodge will approach this differently based on the region you're entering, level of deepness and a few other factors. One way or another getting there is part of the fun, you will be amazed as you transition from an Andean setting to the wilderness of the Amazon.
Commercial Airlines
Commercial flights are limited to lodges located in the surroundings of Lago Agrio, Coca or Macas, the latter been the destination less frequently used. Lago Agrio, officially known as Nueva Loja is home to the Cuyabeno reserve in primary rainforest, a commercial flight provides quick access with flight time of about 45 minutes. Coca, officially known as Puerto Fransisco de Orellana is the most popular destination for taking a commercial flight to start an amazon tour, home to Yasuni National Park, it also provides quick access from the main capital to Coca & Napo river where several lodges can be accessed. Flight time is the same 45 minutes as Lago Agrio, do be aware that your flight is only part of your travel.
Buses & Land Transport
Buses can take you to all starting points (Main Provinces & Towns) for amazon tours, the only downside been the time required to get there. For primary jungle tours in Coca & Lago Agrio your bus ride will be about 8 hours. Buses are available during day or night, taking a day bus would the best way of enjoying the view. Cost wise you will save quite a bit as bus fares will be from $8 to $10 per way – versus a round flight that can cost up to $180. In the case of transport to Tena, buses are your only option other than hiring private transportation or taking a cab, as there is no commercial airport in Tena. Land Transport is required for most if not all lodges, regardless if you took a bus or a plane, taking you further into the amazon before boarding a canoe.
Small Planes & Canoes
Some lodges are located in such remote areas that getting there by any other means would be time consuming not allowing you to get started with your activities on day one. Small aircrafts transport passengers deep into remote primary jungle, adding an exceptional wow factor as you fly over the amazon basin to reach your lodge. These tours will have a slightly higher cost in order to cover these additional expenses but are well worth it. Canoe rides is an activity you will have in your tour one way or another. For lodges built in river sides – long canoe rides (2 to 3 hours) are required to reach their facilities, and they are frequently used on a daily basis for the in and outs of your daily activities. Other lodges will offer canoe rides as part of their activities.
Getting Ready
Woman reading outside

Amazon Rainforest Resources
There is no better way of getting prepared and build up the excitement to your once in a lifetime dream holiday then viewing, researching & reading material about the Ecuadorian Amazon Rainforest. From documentaries to books, there is a wealth of information available about the Rainforest & we have listed some worthy mentions below.