The Evolution Galapagos Ship along with its sister yacht (Grace) take on a completely different approach to the comfort and style unparalleled by other vessels cruising the islands.
Evolution Galapagos Ship Highlights:
Reminiscent of the early 1900's, the Evolution Galapagos Ship boasts an exquisite and unique atmosphere with elegant and distinctive features that blend with nowadays facilities such air-conditioned cabins, phone communication over satellite, and a spacious jacuzzi among others. A Charming 32 passengers expedition ship spacious enough to provide spacious staterooms, along with various social areas – including inside and outside dining – yet small enough for guests to be able to experience nature up-close in remote locations. An exquisite combination of factors yields a ship offering an exceptional service, great comfort and attention to detail, all the while maintaining environmental impact to a minimum. Come visit the archipelago and take some footsteps back in time, or follow in the Steps of Pirates & Darwin for a front row to the Galapagos Islands extraordinary ecosystem.
Evolution Galleries
Evolution Technical Specifications
Type: Expedition cruise ship
Capacity: 32 Passengers
Length: 58.50 Meters / 192 Feet
Beam: 8.9 Meters / 29 Feet
Max speed: 12 Knots
Guide: Level 3
Crew: 19 + guide
Balconies: Not available
Layout: 3 Decks / 16 Cabins
Albatross UD: Master suite A1 = DBL
Albatross UD: Suite A2 = TWN/DBL
Albatross UD: Suite A3 = DBL
Cormorant MD: Premium C1,C4, C5,C9 = DBL
Cormorant MD: Premium C2, C3, C6, C7, C8 = TWN/DBL
Darwin LD: Deluxe D1,D4 = TWN
Darwin LD: Deluxe D2,D3 = DBL
Layout & Comfort (low to high): twin, double, triple / Deluxe, Premium, Suite, Master Suite
Rooming: Private or shared cabins
Sharing: Same gender guaranteed
Private bathroom
Hot showers
Air conditioning
Toiletries / Towels
Hair dryer
110v electricity
Lifeguard vest
Safety deposit box
Sundeck – Solarium
Lounge area
Bar
2 Double kayaks
Jacuzzi
TV/DVD
Library
Satellite phone
Evolution Decks & Itineraries 2018
Evolution Rates 2018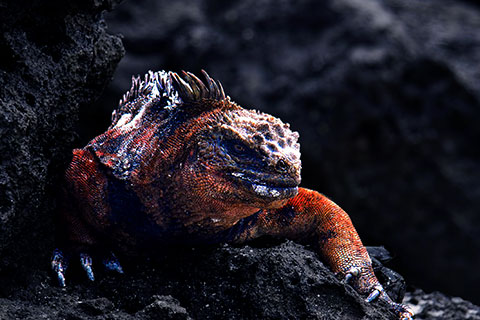 8 days – 7 nights
Either 8 Day Program - Fall Season Rates
$4759
D1,D4,C4, deluxe/premium
$5079
C1-C3,C5-C9, premium
BOOK NOW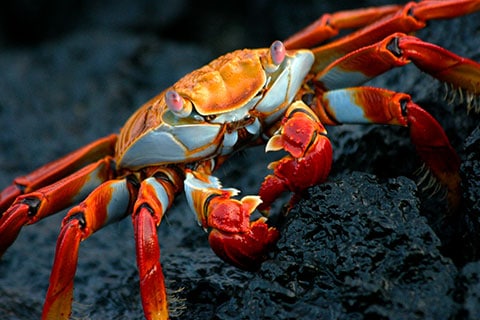 8 days – 7 nights
Either 8 Day Program - Regular Season Rates
$5949
D1,D4,C4, deluxe/premium
$6349
C1-C3,C5-C9, premium
BOOK NOW
* To view available deals for this & other cruises, check our offers
HERE
* Prices are per person, and subject to change without prior notice
* All prices are in USD
VIEW OTHER RATES
| Itinerary | Length | Deck | Season | Cabin | Rate | |
| --- | --- | --- | --- | --- | --- | --- |
| Charter, Either 8 Day Itinerary Fall | 8 days – 7 nights | All Decks | Fall Season | All Cabins | $158600 | BOOK NOW |
| Charter, Either 8 Day Itinerary Regular | 8 days – 7 nights | All Decks | Regular Season | All Cabins | $180150 | BOOK NOW |
* Darwin Lower Deck = D1,D4
* Cormorant Main Deck = C1,C2,C3,C4,C5,C6,C7,C8,C9
* Albatross Upper Deck = A1,A2,A3
* Regular Season: jan 1-aug 16 / dec 11-31
* Fall Season: aug 17-dec 10
Inclusions & Exclusions
INCLUSIONS
 

 

Accommodation, use of onboard facilities

 

All meals, water, coffee, tea, juices & soft drinks

 

All activities & transfers in galapagos

 

Certified bilingual guide

 

Snorkel equipment & wetsuit rental
EXCLUSIONS
 

 

Park fee & TC card: $120

 

Round flight (mainland-galapagos-mainland)

 

Alcoholic drinks

 

Personal expenses, tipping & travel insurance

 

Quito shuttles (hotel-airport-hotel)
Single Supplement: 50-75%
Peak Season Surcharge: $500 pp
Peak Season Single Supplement: 100%
Peak Seasons: Xmas, New Year, Easter
Inquire for discounts & offers
On board payments: Cash, cards
15D tours: No discount in peak dates
15D tours: 10% discount for 2nd week

Snorkel included: subject to change
Programs & rates subject to change
Details verified by the boat operator
Rooming based on 2 guests per cabin
Last Revision: 27-November-2017
Valid Until: 31-December-2018
Wet suit included: subject to change
No fuel surcharge: subject to change

Children minimum Age: 7 years old
Considered child: Under the age of 12

Child discount: 25%, maximum 2 children per family
Discount Restriction: Travel with 2 full paying adults

Terms & Conditions
The above Terms & Conditions/Policies do not represent to a full extent all the terms & conditions by the yacht, the most important and relevant clauses have been listed as a guideline, and are enforced by the boat operator to GreenGo Travel as your acting travel agent and subsequently to the end customer. In cases such as the initial percentage of payment required, and the amount of days prior to cover the final balance will be subject to our terms and conditions. A higher/lower initial payment, and additional time may be required to process your reservation.