ACotopaxi day tour is the perfect way of experiencing the highlands with easy access from the main capital. Cotopaxi has become an iconic stop when visiting Ecuador, clearly visible as a landmark from Quito. Its majestic snowy peaks that can be seen from afar make it an inviting experience from start to finish. Your Cotopaxi day tour starts roughly 50 km south of Quito, it will get you as near as the refuge. For those looking for that extra bit of adventure, an additional 30 minutes will get you to the glaciers.
Cotopaxi Day Tour Highlights:
Cotopaxi is among the highest active volcanoes in the world,  with an elevation of 5,897m (19,347 ft) – a quite popular summit many avid climbers try to peak. The Cotopaxi national park is a protected area that provides guest with a glimpse of the volcano and its natural surroundings. Your tour includes viewpoints along the way, a beautiful lagoon and a mild hike to the refuge, all part of your Cotopaxi day tour adventure!
Cotopaxi Day Tour Gallery
Landmarks, Landscapes & Wildlife
Cotopaxi Day Tour Highlights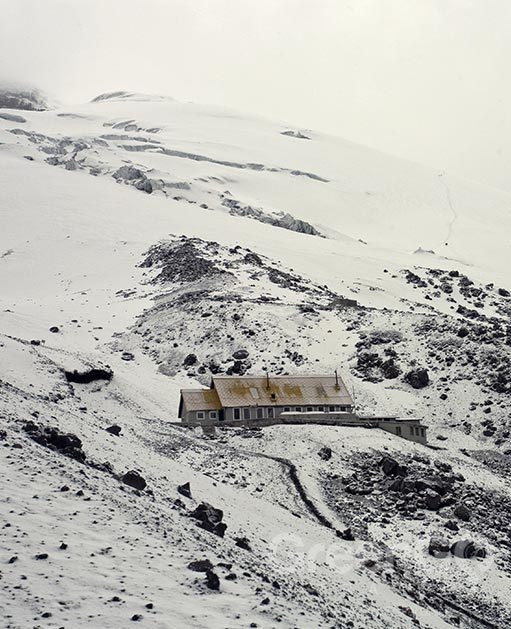 Jose Ribas Refuge 4810m

Cotopaxi National Park

The Cotopaxi national park is a protected reserve that encompasses over 333.9 km of forested surroundings with approximately 200 plant species, the area holds Cotopaxi volcano as it main attraction among other neighboring volcanoes. With an elevation of 5,897 m, the volcano is a beauty to behold and a clear landmark of the area. The park is home to many animals in wild like Andean Hawks, Condors, Horses, the Andean Fox, Weasels, birds & others. The park houses a variety of vegetation zones with humid mountain forests predominantly taking over low elevations.
Limpiopungo Lagoon
Otavaleños are full of tradition and remain true to their roots to this very day, you will be pleasantly surprised when you reach Otavalo and notice the distinctive clothing for men, women, and even children. Women wear distinctive embroidered blouses with many strings of gold beads in their necks; men wear white trousers and the famous
dark ponchos. Other than their clothing otavalenos are also known for their music which plays an important role in the famous indigenous festival (Inti Raymi).
Jose Ribas Refuge
Lagoons and waterfalls are part of the attractions Otavalo has to offer, found on the outskirts of the town near the valley of slopes and volcanoes, stunning landscapes worth visiting. Both Cuicocha & Mojanda are perfect for mild walks in the surroundings and to enjoy the amazing landscape they offer.
Cotopaxi Day Tour Program 2017
Pickup
Hotel pickup with approximately 2 hour drive.
Cayambe

Optional stop at Cayambe to taste a local delicacy (cheese & biscuits).
Market
Free time to browse the market, an average of 1 hour to shop.
Lunch
Your guide will recommend a good restaurant in the surroundings.
Waterfall
A mild 15 minute walk to reach the beautiful peguche waterfall.
Locals
Visit local family shops to observe weaving & musical instruments.
Optional
*Saquisili market: known for leather goods.
Dropoff
Tour ends, your guide will drive drop you off in your hotel at approx 6pm.
Available

08:00 to 18:00

any day of the week, Saturday recommended. *Optional add on is time dependent, surcharge applies
Cotopaxi Day Tour Rates 2017
INCLUSIONS
 

 

Hotel Pickup

 

Transport (hotel-tour-hotel)

 

Certified bilingual guide

 

Activities as listed *entrance fees apply
EXCLUSIONS
 

 

Personal expenses & entrance fees

 

Tipping (optional)

 

Transfer to other locations

 

Meals
Saquisili surcharge: $10 per person.
Last revision: 30-Jan-2017 / Valid until: 31-December-2017
Certified tours by local authorities, compliant with local regulations.
Programs are private by default with certified English speaking driver-guides.
All rates are per person in US$ dollars, rates are subject to change.
Regular vehicles used by default, a van or bus for groups above 4 guests.
Order of activities are not fixed & might change to optimize your experience.
Activities may be replaced/changed if they can be arranged in the allotted time.

Cap or hat
Sport or trekking shoes
High factor sun block cream or gel
Bottled water to carry with you in tour
UV400 sunglasses with 100% UVB block
Digital camera or mobile phone
Light clothing & rainproof jacket
Cash for souvenirs, meals & tipping
Backpack to carry personal belongings
Passport copy, keep original stored in hotel
Children allowed: Yes
Children discount: 50%
Children minimum age: 6 years
Considered child: Under the age of 6
Restrictions: Accompanied with 2 adults
Discount & restrictions subject to change
View Terms & Conditions
Please check our terms and conditions for a full breakdown of applicable clauses that apply for day tour bookings.